Confronting Racism: Imagining an anti-racist UC and the roots of structural racism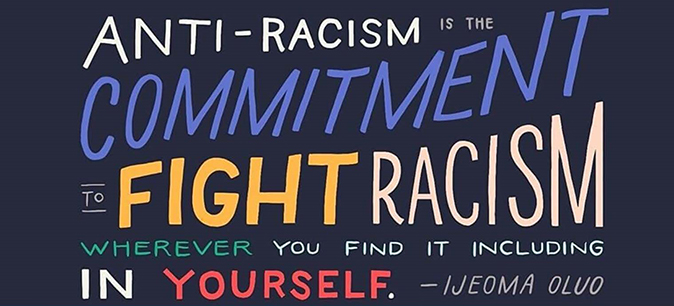 The UC Office of the President's Graduate, Undergraduate and Equity Affairs (GUEA) and Office of Workplace Inclusion and Belonging (OWIB) will present the next two events in the Confronting Racism speaker series next week. Join us to learn more about racism's impact and how we can address it — individually and as members of the UC community. Select each event name to register.
On April 19, from 12 – 1 p.m. (PT), members of the UC-Coro Systemwide Leadership Collaborative (2020 Northern California cohort) will present their findings and recommendations from a reflection tool and audio stories they developed. They'll also share resources UCOP staff can use for further education and reflection. Learn how the UC community can confront racism through the daily actions and decisions we make in our jobs.
Panelists
Élida Bautista, Chief Diversity, Equity and Inclusion Officer, Haas School of Business, UC Berkeley
David Castellanos, Chief Financial Officer, Office of the Vice-Chancellor for Research, UC Berkeley
Annaliese Franz, Professor of Chemistry, UC Davis
Wylie Liu, Executive Director, Center for Community Engagement, UCSF
Judy Young, Executive Director, National Center of Excellence in Women's Health, UCSF
Register for Imagining an Anti-Racist UC.
On April 21, from 12 – 1 p.m. (PT), Samir Gambhir, director of the Equity Metrics Program at the Othering and Belonging Institute at UC Berkeley will discuss the findings he and his coauthor determined after years spent investigating the persistence of racial residential segregation across the U.S. Their research revealed that residential racial segregation has a significant impact on:
Forming and sustaining racial disparities in health and well-being
Policing and the criminal justice system
Schools and universities
Corporations and labor markets
Neighborhoods and housing.
Sorting people into particular neighborhoods or communities on the basis of race connects (or fails to connect) individuals to good schools, nutritious foods, healthy environments, well-paying jobs and access to health care, clinics, critical amenities and services. Racial residential segregation remains the linchpin — the deep root cause — that sustains systemic racial inequality. Read the full report here.
Register for The Roots of Structural Racism.
About the Confronting Racism Speaker Series
The Confronting Racism speaker series is a program of virtual learning opportunities organized and cosponsored by Graduate, Undergraduate and Equity Affairs (GUEA) and the Office of Workplace Inclusion and Belonging (OWIB). Inspired by President Drake and the work of the UCOP Anti-Racism Task Force, Confronting Racism brings UC lecturers from a broad array of fields to UCOP to highlight contemporary issues related to equity, diversity and inclusion. All UCOP community members are encouraged to attend these events to broaden their perspective, learn how to adopt anti-racist principles in their own lives and engage in meaningful conversations with guest lecturers and colleagues.
Tags:
Confronting Racism speaker series
,
David Castellanos
,
Élida Bautista
,
Judy Young
,
Samir Gambhir
,
UC-Coro
,
Wylie Liu
---