Join UC ANR in celebrating Hispanic Heritage Month
Sept. 15 – Oct. 15 is National Hispanic Heritage Month — a time to recognize the achievements and contributions of Hispanic Americans who have inspired others to achieve success. Members of the new UC ANR Latinx & Friends Affinity Group will hold their first official meeting and have planned celebratory events throughout the month. All UC colleagues are invited to participate!
About the UC ANR Latinx & Friends Affinity Group
The UC ANR Latinx & Friends Affinity Group is a safe space in which to share our cultural identities, discuss our plans, goals and dreams for the future and create strong bonds. This group is our stage to showcase and educate our peers about who we are and what makes us unique — from book-of-the-month discussions in Spanish to showcasing the most important and unique places of our counties of origin and more. Watch a video to learn more about the group's goals.
September events
September events will be English-speaking and take place via Zoom. Please register here for both events.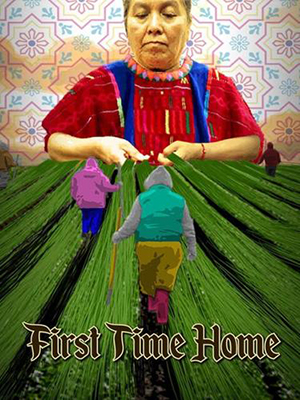 UC ANR Latinx & Friends Affinity Group: Meeting and First Time Home film screening
Sept. 21, 12 – 12:45 p.m.
Join us for our first meeting! Beginning at noon, you can get to know our members, sign up for committees and share your ideas. At 12:45, we will screen "First Time Home," a short film created by young people who are Indigenous Triqui, second-generation immigrants. "First Time Home" offers an unscripted, authentic glimpse into the lives of farmworker families, including an exploration of why some people choose to sacrifice their lives in Mexico for opportunities in the U.S. A question and answer session with the film creators will follow.
Jose Pablo Ortiz-Partida, Ph.D.: Environmental Justice in the San Joaquin Valley
Wednesday, Sept. 28, 12- 1 p.m.
Join Jose Pablo Ortiz-Partida, Ph.D., senior water and climate scientist for the Climate & Energy program at the Union of Concerned Scientists, for a discussion about the environmental justice study he conducted in the San Joaquin Valley. His professional focus is on developing equitable solutions for preserving and distributing clean water for people and the environment. At the Union of Concerned Scientists, he takes the lead in identifying and developing analytic and community-based research projects on how climate change affects disadvantaged communities. He also works on developing strategies for vulnerable sectors and populations to cope and adapt to climate change's current and projected impacts, particularly related to water.
October events
October events will be Spanish-speaking and will take place via Facebook Live. Follow UC ANR en Español on Facebook.
Susana Matias, Ph.D.: Healthy living
Wednesday, Oct. 5, 1 – 2 p.m.
Susana L. Matias Medrano, Ph.D., UC Cooperative Extension specialist in the Department of Nutritional Sciences & Toxicology at Berkeley, will lead a discussion of healthy living, including considerations around obesity and breastfeeding. Susana's research interests include maternal and child nutrition, immigrant health, food security, obesity and diabetes prevention, nutritional and behavioral interventions, and evaluation research.
Magda Argueta: Mayan pollinating techniques
Wednesday, Oct. 12, 1 – 2 p.m.
UC ANR Global Food Initiative Fellow and UC Riverside doctoral candidate Magda Argueta will discuss her research around ancient Mayan pollinating practices with stingless bees.
Samuel Sandoval Solis: Climate Change Effects
Thursday, Oct. 13, 1 – 2 p.m.
Join Samuel Sandoval Solis, Ph.D., UC Davis assistant professor and Cooperative Extension specialist, for a discussion of the effects of climate change, including what individuals can do to reduce impact and UC ANR's sustainability initiatives. Samuel's expertise is in water resources planning and management for sustainable water systems.
For more Spanish-language Hispanic Heritage Month content, including a special Latino playlist, Latino movie recommendations and museum exhibits, visit ANR's Hispanic Heritage Month webpage.
Questions? Contact Ricardo Vela.
Tags:
ANR
,
Hispanic Heritage Month
---