Join APISA in celebrating Filipino American History Month
October is Filipino American History Month!
Celebrate by joining the Asian Pacific Islander Staff Association (APISA) for two fun community events on October 11.
Lumpia Break in Oakland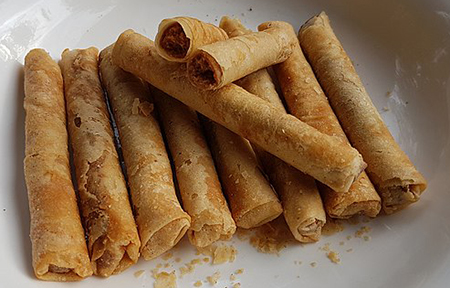 From 2 – 3 p.m. (PT), come to the 5th Floor Patio between the Broadway and Franklin Buildings in Oakland to taste some delicious lumpia — Filipino fried spring rolls! If you're joining us, please fill out this quick form so we can make sure we'll have enough lumpia for everyone.
Tsai & Yang at the Movies: "Being Asian in America"

From 3 – 4 p.m., tune in on Zoom for another installation of Tsai & Yang at the Movies. We will be showing the Pew Research Center documentary "Being Asian in America." In this 30-minute film, Asian American participants describe navigating their identities in a nation where the label "Asian" brings expectations about origins, behavior and physical self.
Zoom link: https://UCOP.zoom.us/j/97249850270
Read more about Filipino American History Month from the Filipino American National Historical Society.
For questions about these events, please contact Benjamin.Tsai@ucop.edu or Tony.Yang@ucop.edu.
Tags:
Ben Tsai
,
Documentary
,
Filipino American History Month
,
lumpia
,
Tony Yang
---