UCOP employee volunteers give back to the East Bay community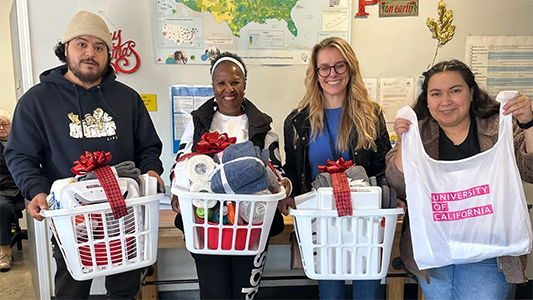 Slideshow: Dec. 8, 2022, Alameda County Community Food Bank (ACCFB) volunteers; Nov. 16, 2022, ACCFB volunteers; BSFO members Joyce Price and Hilary Steinman deliver baskets of supplies and hygiene kits to Bay Area Community Services staff
During the 2022 holiday season, volunteers from UCOP ERG Community Engagement Services found new ways to connect with and support impactful East Bay charities.
Over two day-long volunteering events at the Alameda County Community Food Bank's Oakland warehouse, UCOP volunteers sorted fresh produce and prepared emergency food boxes. Volunteers packaged 54,020 pounds of produce — equivalent to approximately 132 pounds per volunteer hour and 44,500 meals.
Volunteers also delivered baskets of requested necessities and hygiene kits for unhoused people to local charities:
To the Building Futures Organization, which connects Alameda County individuals and families in need with shelter, housing services and domestic violence support and advocacy, UCOP volunteers provided one huge basket, seven gift cards and additional online donations.
For Bay Area Community Services, a local leader in homelessness prevention programs, UCOP volunteers provided four huge "Home in a Basket" gifts for homeless people who are transitioning and 10 hygiene kits for unhoused clients.
Thank you to the staff from the following UCOP employee resource groups who helped make these efforts a success:
Asian and Pacific Islander Staff Association (APISA)
Black Staff and Faculty Organization (BSFO)
Latinx Staff Association (LaSA)
Native American, Indigenous and Pacific Islander Staff Association (NAIPISA)
OP Staff Assembly (OPSA)
Sustainability Employee Resource Group (SERG)
UCOP Pride
"UCOP ERGs are committed to meeting the needs of our surrounding communities," says BSFO Co-Chair Joyce Price. "Thank you to our colleagues who volunteered time and donated to these worthy local causes. We look forward to collaborating with you in 2023!"
For additional information, contact joyce.price@ucop.edu.
Tags:
ERGs
,
food bank
,
volunteers
---