APISA workshop teaches key safety moves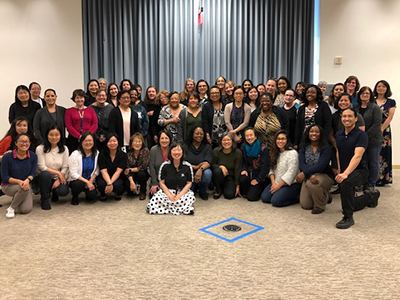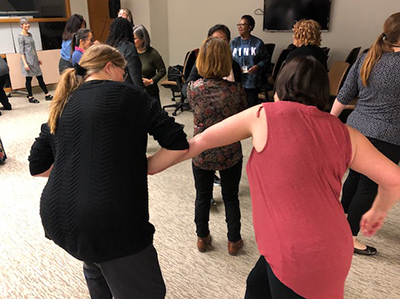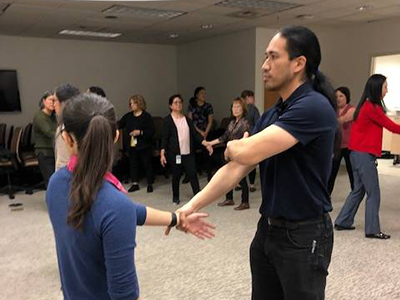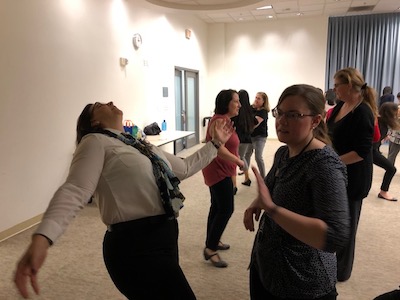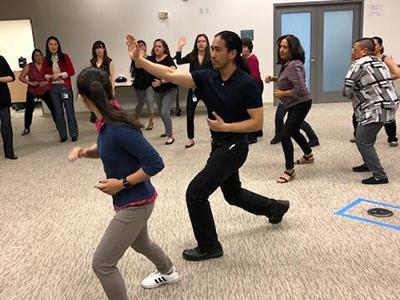 Photos from the April 11 safety workshop hosted by the Asian Pacific Islander Staff Association (APISA).
On Thursday, April 11, the Asian and Pacific Islander Staff Association (APISA) provided a personal safety workshop to close to 70 UCOP staff members at the Franklin building in Oakland.
The workshop, which was geared towards women, was taught by Joseph Bautista, owner of Eskabo Daan, a Filipino martial arts school in San Francisco.
Bautista is also an instructor for Self Defense for the People, a company that teaches Every Woman: The Contemporary Urban Woman's Self Defense Program. Learn more. This course, upon which the UCOP workshop was modeled, offers a modern, urban approach to self-defense in everyday situations — such as while taking public transportation — as well as building general self-awareness. His methods include de-escalation and verbal self-defense techniques, such as simply yelling "No!" to confront a would-be attacker in public. Participants also learned basic physical self-defense moves, such as using flat palms to slap or push an attacker, and keeping a low center of gravity when engaged in a physical altercation.
"I learned so much from the personal safety workshop," says Ghanya Thomas. "I pray I will never have to use the techniques, but the experience made me feel empowered and less vulnerable. I hope we can bring Eskabo Daan back to OP."
"I thought it was great," says Julie Miller. "Let's have informal meet-ups and a follow-up training session to practice and build our muscle memory. Remember: Wrist, elbow, shoulder!"
Due to the popularity of the workshop, the APISA hopes to offer a follow-up course in the future.
Preorders for tactical pens and kubotans
As a fundraiser for upcoming staff activities, the APISA will be selling tactical self-defense pens and kubotans — a traditional Filipino self-defense tool. To purchase one, please contact any of the APISA board officers (Angela Hom, Ben Tsai, Arthur Quilao or Kelly Xue) for information about pricing and availability.
Stay in the loop about upcoming APISA events
Interested in learning more about what APISA has planned? Join the Listserv by sending a message to Ben Tsai.
Attend a future self-defense course
Staff interested in booking a future workshop through Eskabo Daan or Self Defense for the People can contact Bautista directly at EskaboDaan.JB@gmail.com and follow the company on Facebook.
"Thank you for participating in this workshop hosted by APISA," said Bautista. "We hope that you had fun and learned something new!"
Tags:
APISA
,
safety
---