Giving back at Point Reyes National Seashore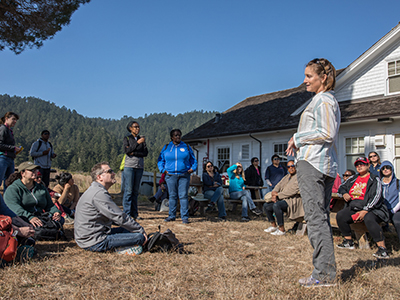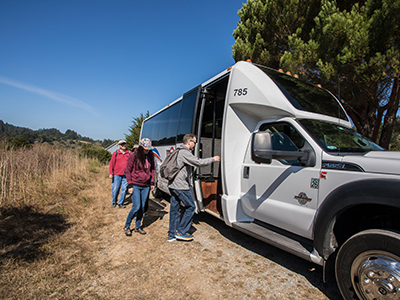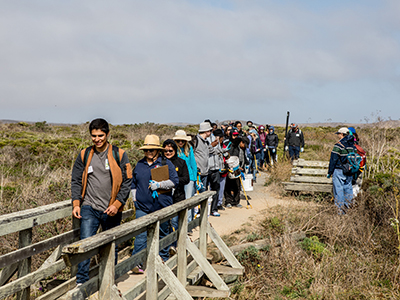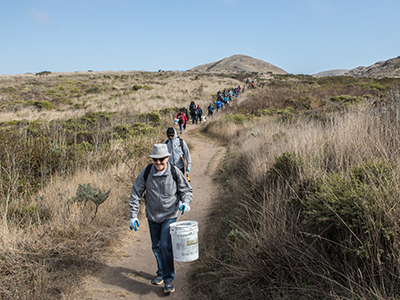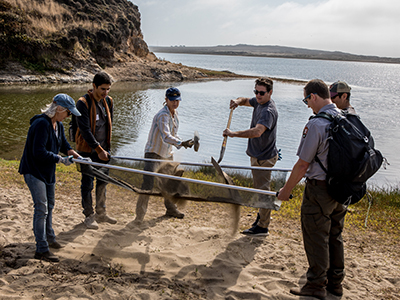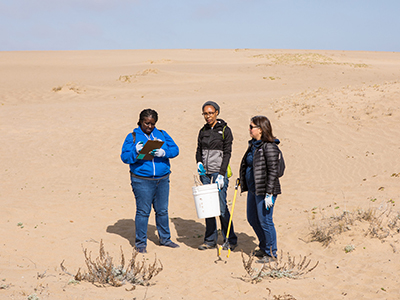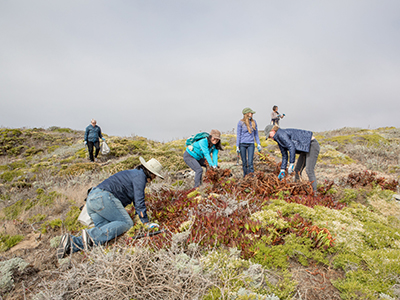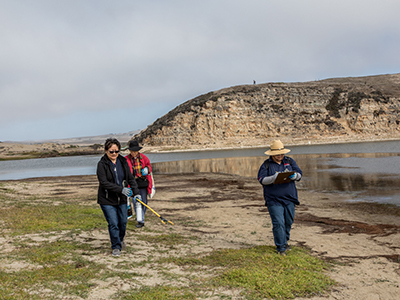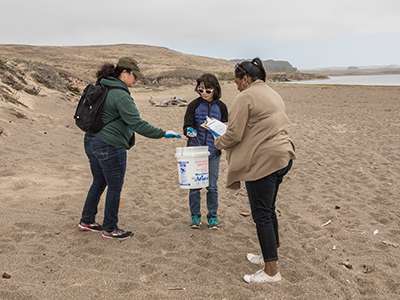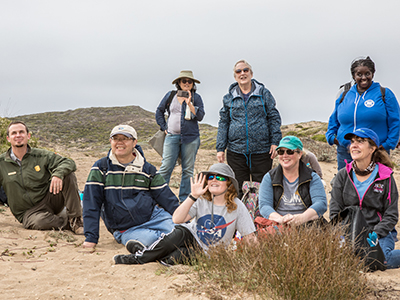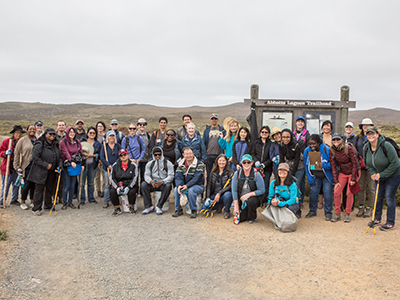 UCOP employees volunteer at Point Reyes National Seashore on Monday, Oct. 14, 2019. Photos by Lobsang Wangdu/NRS.
This article is courtesy of Kathleen Wong, principal publications coordinator, Natural Reserve System.
Point Reyes National Seashore is located just 50 miles from Oakland. But to UCOP staffers who traveled there by bus to attend an Academic Affairs Day of Service event on Monday, Oct. 14, the dense forests, fog-shrouded dunes and sparkling shorelines of the park seemed a world away.
The all-day affair gave about 30 UCOP staff members an opportunity to tour one of the UC Natural Reserve System's (NRS) newest reserves, Point Reyes Field Station, and to clean a beach.
Point Reyes Field Station, located south of the town of Olema, is a partnership between the NRS and the National Park Service (NPS), which owns the historic wooden ranch house that houses the field station.
Gathered beneath the trees in the field station yard, the group learned why NRS reserves are so valuable to field researchers.
"You may be wondering why we need a reserve here when we're so close to the Bay Area," said Reserve Director Allison Kidder of UC Berkeley. "But when you're coming back after a long day of working in the field and have to start up again before the sun rises, it's a lifesaver to have a place to stay nearby."
Dozens of researchers from UC and other institutions, plus hundreds of other scientists and students, have stayed at the field station while conducting research in the park and nearby natural areas, for meetings and even for writing retreats, Kidder explained.
Ben Becker, the park's chief scientist, described how the findings of scientists working at Point Reyes help the NPS better manage park lands and wildlife.
NRS Executive Director Peggy Fiedler thanked everyone for taking the time to discover more about the NRS. "We have 41 reserves around the state that provide facilities for researchers and students to learn more about the natural world. While we were established nearly 55 years ago with seven sites, today we are excited to be able to expand our presence through partnerships with state and federal parks."
After touring the field station, attendees traveled to the windswept beaches of Abbott's Lagoon. Brandon Barragan, education and diversity outreach coordinator for the nonprofit Point Reyes National Seashore Association, led a mile-long hike to the beach. For the next hour or so, attendees picked up trash, sifted beach sand for plastic particles and yanked clumps of invasive iceplant from the dunes.
Before returning to the parking lot, Barragan led the group in commemorating Indigenous People's Day. He tapped attendees to enact a creation myth by the Miwok tribe, whose traditional lands encompass the park. Participants made like condors, falcons and owls, donating feathers to a coyote's fabrication efforts.
UCOP staffers were uniformly enthusiastic about the trip. "This is my first time at the park. We're doing a good deed here today, helping the environment and learning about the NRS," said DeShawn Boyd of the Research Grants Program Office.
"It's been an opportunity to see more of what UC does outside of OP, to be outside in a beautiful area and to see all the committed people willing to give back in another way," said Juanita Muniz Torres of the Math, Engineering and Science Achievement program. "I liked the fact we came on Indigenous People's Day; it was a good day to connect with the earth. I am coming back invigorated and refreshed."
Tags:
Academic Affairs
,
Day of Service
,
National Park Service
,
Point Reyes National Seashore
,
UC Natural Reserve System
---