Share with your network: Tips for job searching during COVID-19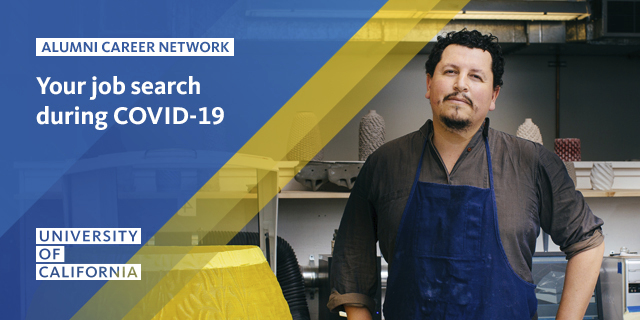 Unfortunately, many of us know people whose livelihoods have been adversely affected by the coronavirus pandemic. The UC Alumni Career Network is here to help.
This Wednesday, April 15, Vice Provost Yvette Gullatt will interview career expert and UC Santa Barbara alumna, Dana Manciagli during a 30-minute, high impact livestream. They'll share concrete tips for job-searching during the pandemic, including maximizing job searches, identifying leads and remaining positive during times of change.
Questions will include:
How has COVID-19 impacted the employment market and job search?
Is now really the time to be looking for a job?
For every posted position, the competition will be fierce. What are three things candidates can do to stand out with the hope of getting an interview?
What are some strategies for remaining positive during challenging times
Please share this impactful presentation with anyone in your network who could benefit from additional guidance during this trying time.
How to tune in
What:  UC Alumni Career Network presents: Your job search during COVID-19
When: Wednesday, April 15, 12-12:30 p.m. PST
Check it out live online: UC LinkedIn or UC Facebook
Can't make it Wednesday? No worries. The event will be archived on the pages above, as well as on the UC Alumni Career Network site. And, you can subscribe to the Alumni Career Network to receive a link to the recording.
Meet the presenters
Yvette Gullatt has more than 20 years of experience in diversity and institutional equity leadership. She currently serves as Vice Provost for Diversity and Engagement and interim vice president for Student Affairs for the UC system. In these roles, she provides strategic leadership and advice for translating UC's vision of inclusive excellence into sustainable policies, practices and programs. Yvette has doctoral, master's and bachelor's degrees from UC Berkeley. Her research interests include early African-American life writing and Afro-Christian discourses of community development and nationalism. You can view earlier Career Insights livestreams moderated by Yvette on the UC LinkedIn page.
Dana Manciagli has been a corporate executive for more than 30 years and has leveraged her employee hiring and management experience as an author, blogger, keynote speaker, career coach and global career expert. She is the founder of Job Search Master Class and author of "Cut the Crap, Get a Job! A New Job Search Process for a New Era." She was worldwide sales general manager at Microsoft and VP of worldwide marketing at Kodak. In addition to positions at Avery Dennison and IBM, she helped grow a technology start-up from early stage to IPO and sale. A top "Women of Influence" in Seattle, Dana graduated from UC Santa Barbara and holds an MBA from the Thunderbird School of Global Management.
Join the UC Alumni Career Network for more April events!
Career Advancement: Tips for managing others
Tuesday, April 21 | 12 – 1 p.m. (Via Zoom) – Register
For many, career growth is accompanied by the added responsibility of managing others. Learn techniques to expand and enhance your management skills through this one-hour, interactive webinar. Whether you're an early career professional who aspires to lead a team, a new manager looking for tips to develop your supervisory skills, or an experienced supervisor in search of new insights to motivate your team, this webinar will discuss the ins and outs of managing and inspiring others. This event will feature Chris MacLaughlin, chief marketing officer of IBM's Global Partner Ecosystem in conversation with Rose Nakamoto, director of the Santa Clara University Career Center.
Prescription for success: Advice from fellow health care/medical leaders on professional success in mid-career and beyond
Thursday, April 23 | 12 – 1 p.m. (Via Zoom) – Register
Not only are health care and medicine among the most popular fields for UC alumni, these professions often top the list of occupations with the highest burnout rates. Join us in April 2020 for an in-depth e-conversation with fellow UC alumni working in health care and medicine to discuss positioning yourself for long-term professional success. From finding your professional fit and navigating career change to advancing into leadership positions or shifting away from patient-centered work, this panel will offer insights and advice to help you prepare for your next career steps. While this webinar is open to all UC alumni, the content of this program is specifically designed for mid and later career professionals in the fields of health care and medicine.
Questions? Contact Katrina.Ward@ucop.edu.
Tags:
career advice
,
job searching
,
professional development
,
UC Alumni Career Network
---