This Wednesday: Attend the UC Wildfire Symposium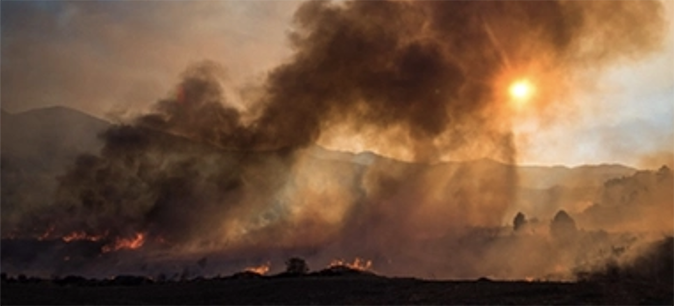 On Wednesday, July 28, join the UC Research & Innovation (R&I) office for a virtual symposium on wildfires in the wildland-urban interface (WUI). WUI regions are those most at risk for loss of life and property, as they confront the dual challenges of climate change and the increased development of wildlands for urban use.
UC wildfire, health, and environmental experts will be in conversation with senior officials from the California State Water Resources Control Board, California Department of Forestry and Fire Protection (CAL FIRE), California Natural Resources Agency and California Air Resources Board. President Drake will offer opening remarks.
Joaquin Esquivel, Chair, California Water Resources Control Board
Steve Hawks, Staff Chief, Wildfire Planning & Engineering Division, CAL FIRE
Theresa Maldonado, Vice President, UC R&I, University of California
Jessica Morse, Deputy Secretary, Forest Resources Management, California Natural Resources Agency
Elizabeth Scheehle, Chief, Research Division, California Air Resources Board
View all topics and speakers at the UC Wildfire Symposium website.
Join us
What: UC Wildfire Symposium
When: Wednesday, July 28, 2021, 8 a.m. – 12 p.m. PT
Registration: Register to attend via Zoom
For questions, contact  Beth.Kellman@ucop.edu.
Tags:
research and innovation
,
UC Wildfire Symposium
,
wildfire
---