The UC Alumni Career Network investigates the "Great Resignation"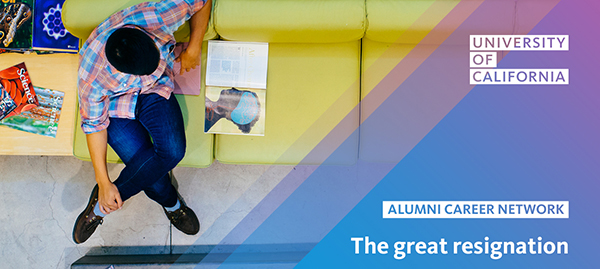 The "Great Resignation" can mean a lot of things — from an exodus of exhausted employees from the workforce to a widespread ideological movement of adults away from jobs they find meaningless, problematic or inflexible, and into something else… which is yet unclear. This phenomenon is impacting every sector and level of talent as workers' rights are being placed front and center.
On Tuesday, April 12, the UC Alumni Career Network will feature Enrique Lopezlira, Ph.D., director of the Low-Wage Work Program at the UC Berkeley Labor Center. He will share insights on:
Drivers of the "Great Resignation"
Skills needed to organize in response to inequitable practices
Legal & political instruments to be informed about in relation to our role in the workplace
Remarkable companies that have pursued worker-centered practices
Dr. Lopezlira has been featured on CNN, Mother Jones, NPR and the Washington Post.
Join us
What: The Great Resignation: What, Why and Who
When: April 12, 12 – 1 p.m. (PT)
Registration: Register online here
For questions, contact alumni@ucop.edu.
About the UC Alumni Career Network
The UC Alumni Career Network is a high-impact, online series designed to provide UC alumni and community members with the insights, information, and connections to launch, grow and expand your career opportunities. We tackle a variety of career topics by providing you with insider tips and advice to help you make the most of your UC network. Join us online to gain the latest information and to ask questions relevant to your own professional journey. Join our email list to get information on upcoming career webinars and events.
Tags:
Enrique Lopezlira
,
Great Resignation
,
UC Alumni Career Network
,
UC Berkeley
---