Meet colleagues and enjoy the community garden in Oakland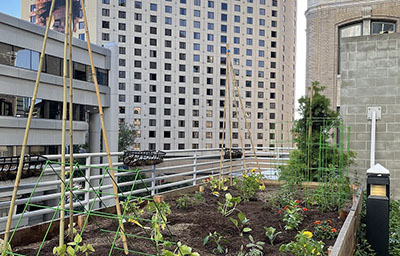 If you would like to learn more about growing your own food, meet colleagues while harvesting summer veggies or take a break and get some fresh air, come to a gardening session at UCOP's Oakland community garden.
Located on the 5th-floor patio of the Franklin/Broadway campus, all staff are invited to enjoy the garden and harvest produce. Crops include tomatoes, eggplant, tomatillos, cucumbers, beans, zinnias, sunflowers, Genovese and Thai basils, thyme, blueberries, pineapple sage and squash.
The first social gardening session will take place this Thursday, Aug. 25, from 11:30 a.m. – 12:30 p.m. Gloves and tools will be provided.
Not available this week? Mark your calendar for one of these upcoming dates:
Wednesday, Sept. 28, 12:30 – 1:30 p.m.
Thursday, Oct. 13, 12:30 – 1:30 p.m.
For questions, contact Aimee Chang.
Tags:
community garden
,
oakland
---