Explore perspectives on quiet quitting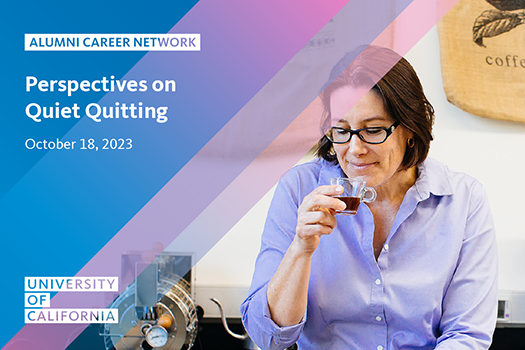 The concept of "quiet quitting" has been framed in some contexts as an empowered response to burnout and in others as a new term for a long-established workplace behavior: employee disengagement. Varying definitions and perspectives of this trend among employers and employees have sparked controversy. They've also inspired the next episode of the UC Alumni Career Network, Perspectives on Quiet Quitting.
On Wednesday, Oct. 18, from 12 – 1 p.m. (PT) check out a conversation with UC alumni who are HR leaders and employee engagement experts. We'll engage in a conversation on defining quiet quitting, explore strategies employees and companies can take to leverage this shift, and present tangible steps for creating sustainable workplaces.
And, save the date for our next event on Wednesday, Nov. 8, from 12 – 1 p.m. (PT): The First-Generation College Experience. 
For questions, email alumni@ucop.edu.
Tags:
quiet quitting
,
UC Alumni Career Network
---