My new (ab)normal: Ginny Delaney, woodworker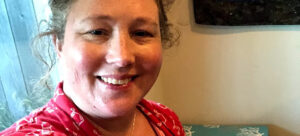 Meet Biomedical Program Officer Ginny Delaney. While quarantining at home, she has developed affinities for woodworking, "Lovecraft Country," Svaha leggings and her mail carrier.
Ginny's new (ab)normal
Name: Ginny Delaney
Title: Biomedical Program Officer
Department/Unit: Academic Affairs/Research and Innovation/Research Grants Program Officer/Tobacco-Related Disease Research Program
Typical workplace location: Oakland
When you started working at UCOP: 2007, with a brief hiatus from 2015-17 then back again!
What you do at UCOP in 10 words or less: Support research to reduce tobacco use and inform public policy.
Something new you've learned or started during the quarantine: Woodworking!  I've built a storage bench (which is really a cat lounge area, let's be honest) and am planning a bookshelf.
The best thing you've watched/read/listened to lately: I'm obsessed with "Lovecraft Country" on HBO, which presents the gritty details of systemic racism in the context of science fiction/fantasy. Also, Ted Lasso on Apple+, which just makes me super-happy.
Your work from home wardrobe staple: Leggings from Svaha.  It's a women-owned business that makes gender-non-conforming clothing with geeky prints in sizes that actual women can wear.
How you stay connected with colleagues, family and friends: This has been hard.  I have a group text with several close friends and a weekly video call with a dear friend on the East Coast.  My mailman is the person outside of my household who I see the most. He has the grace to wave at me and pretend I'm not a needy weirdo.
What keeps you sane: Sanity is overrated, but gardening, New York Times crosswords and digital puzzles are my go-tos.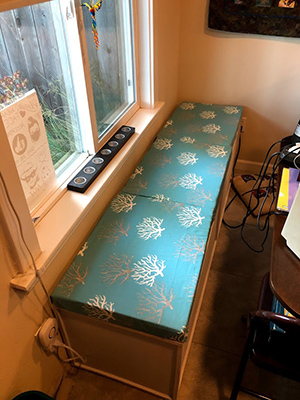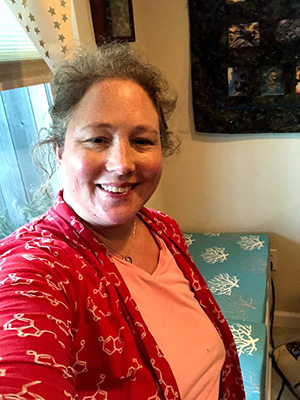 =====
The new (ab)normal is a new, fun way to share our unprecedented 2020 experiences with UCOP colleagues. Learn more — and share your new (ab)normal!
Tags:
Ginny Delaney
,
My new (ab)normal
---