Wednesday: Learn how volunteering can advance your career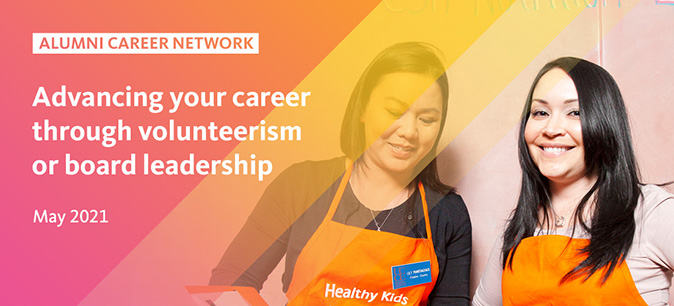 In addition to presenting a great opportunity to help others, volunteering can be a great way to expand your network and develop additional skills. On Wednesday, May 26, from 12-1 p.m. (PT), join the UC Alumni Career Network for Advancing your career through volunteerism or board leadership.
From short-term volunteer opportunities to serving on a board, a panel of UC alumni will share their insights on how volunteering can help you accelerate and advance your career, including:
How to identify volunteer and board leadership opportunities
Common skills organizations look for in volunteer leaders
Strategies for positioning your volunteer experiences for professional growth
The information offered will be relevant for those at all career levels, from new professionals to senior-level executives.
Join us
What: UC Alumni Career Network: Advancing your career through volunteerism or board leadership
When: Wednesday, May 26, from 12-1 p.m. (PT)
Registration: Register here to join live or receive the recorded webinar
Presenters
Moderator: Charles Melton ('08, UC Davis), Senior Public Policy Manager, Turo
Allison Olson ('09, UC Davis), Executive Director, Down Syndrome Information Alliance
Cathy Rodriguez-Aguirre ('99, UC Davis), President & CEO, Sacramento Hispanic Chamber of Commerce
Paul Simpson (BA, UC Santa Cruz; MBA, UC Berkeley), Chief Financial Officer, LifeMoves; President, SageTel International
Debby Stegura ('79, UC Davis), Alumni Regent, University of California; President, Alumni Associations of the University of California (AAUC); City Council Member, Rolling Hills Estates
About the UC Alumni Career Network
The UC Alumni Career Network is a high-impact, online series designed to provide UC alumni and community members with the insights, information, and connections to launch, grow and expand your career opportunities. Each month we'll tackle a different career topic by providing you with insider tips and advice to help you make the most of your UC network. Join us online to gain the latest information and to ask questions relevant to your own professional journey.
Sign up for the email list to receive monthly invites! For more information about the UC Alumni Career Network and links to recordings of past episodes, visit our website.
Contact alumni@ucop.edu with questions.
Tags:
professional development
,
UC Alumni Career Network
,
volunteering
---