New webinar: Parenting + work: How to succeed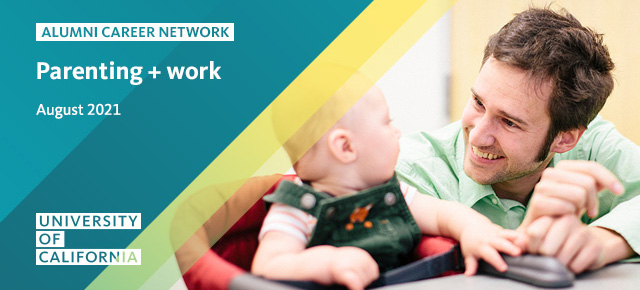 Being successful as a parent and at work can be a tricky balancing act. Whether you're a parent yourself or are supporting partners or team members who are, the UC Alumni Career Network is here to help.
On Aug. 17, UC alumni will share their personal stories and advice on sharing parenting responsibilities, advocating for parents' needs in the workplace and strategies for navigating it all. This transparent conversation will include insights, advice and suggestions for supporting yourself or other working parents in balancing the demands of work, family and personal life.
Join us!
What: The UC Alumni Career Network presents Parenting + Work
When: Aug. 17, 12-1 p.m.
Registration: Register online here
About the UC Alumni Career Network
The UC Alumni Career Network is a high-impact online series designed to provide UC alumni and community members with insights, information and connections to launch, grow and expand their careers. Each month we tackle a different career topic, providing insights and advice from UC alumni that help you make the most of your career and your UC network. Join our email list to get information on upcoming career webinars and events, and view past webinars on our website. For questions, contact alumni@ucop.edu.
Tags:
parenting
,
UC Alumni Career Network
---