What to do if you're the victim of a cyberattack or notice suspicious online activity
In today's world, we are constantly under attack from cybercriminals.  The University of California is a premier higher education institution, and criminals want our data and resources.
Typically, cybercriminals use social engineering techniques, such as phishing emails, text messages and voice calls to get a foothold inside our network — and then launch more attacks. Employees are often targets of these attacks.
"We are all responsible for UCOP's security.  If you see any suspicious activity or receive any suspicious emails or texts, do not respond. Notify the Information Security team immediately," says Interim Chief Information Security Officer Joshua Van Horn.
Here's what to do if you're the victim of a cyber attack or notice any suspicious activity
Do not respond to the attack/activity
Notify your manager
Notify Information Security at cybersecurity@ucop.edu.
Reporting suspicious emails
Please use the Report Message button in Outlook to report suspicious emails. This button is located in the top-right menu in the desktop version of Outlook, and under the "…" menu in Outlook Web Access (see images below).  Using this button helps our email system better detect and stop these messages from being delivered.
Outlook desktop version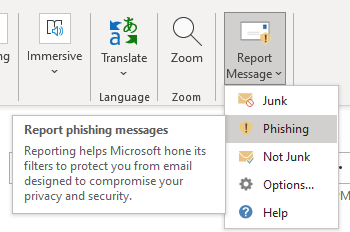 Outlook Web access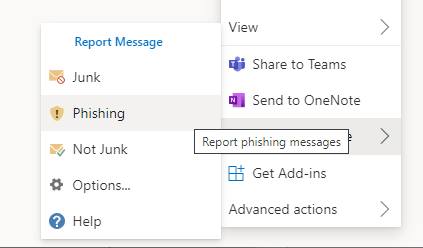 Looking for more guidance? Visit the systemwide information security website for more information about identifying phishing emails.
Tags:
cybersecurity
,
Joshua Van Horn
,
phishing
---