New webinar series: COVID-19's impact on students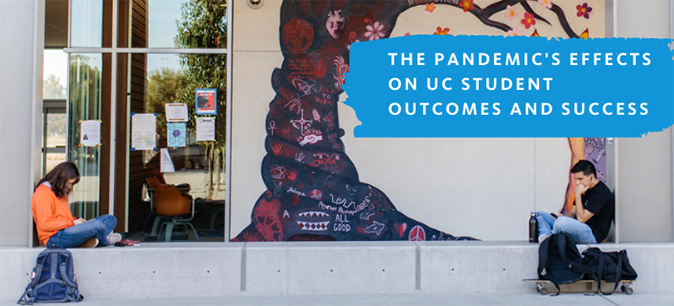 UCOP's Division of Graduate, Undergraduate and Equity Affairs (GUEA)  has launched a new webinar series — The Pandemic's Effects on UC Student Outcomes and Success. The series will focus on the pandemic's impact on undergraduate education and student mental health.
Register for each webinar by selecting the event title.
Resilience and Adaptation in Undergraduate Education During COVID-19 
May 11, 12–12:50 p.m. (PT)
What kind of losses did undergraduate students incur during the pandemic? Findings from a state-of-the-art measurement system used at UC Irvine will be presented to highlight resilience and adaptation in the context of the COVID-19 public health crisis. While students were able to continue making academic progress at close to pre-pandemic levels, what might they have lost in terms of human development? What were the effects of remote instruction? Of the absence of vibrant interactions on campus? What can we learn from the experiences that might help us better serve students from diverse backgrounds in the future?
Presenter: Richard Arum, Professor of Education, UC Irvine
Student Mental Health in the Time of COVID
May 25, 11 a.m. – 12 p.m. (PT)
Mental health and well-being have become more salient in the wake of the COVID-19 pandemic. This webinar will provide the audience with national data on mental health trends among college students as well as patterns across the University of California. In addition to providing context, experts will share ways that UC is addressing the student mental health crisis, including programs, services and strategies to better support students at UC.
Presenters:
Cory Vu, Assistant Vice Chancellor for Health, Wellness and Divisional Resources, UC Davis
Sharleen O'Brien, Associate Dean and Director of Health and Wellness, UC Santa Barbara
Marcelle Hayashida, Associate Vice Chancellor for Wellness, Health and Counseling Services, UC Irvine
Frances Diaz, Director of Counseling and Psychological Services, UC Irvine
For questions, contact Kari Stewart.
Tags:
COVID-19
,
GUEA
,
undergraduate students
---