Abby Norris: How Toastmasters boosted my career
Many UCOP colleagues belong to the Lakeside Speakeasy chapter of Toastmasters International, an organization that provides affordable communication and leadership training in a friendly and supportive environment. Club members meet weekly on Thursdays.
All UCOP staff are encouraged to attend a free Toastmasters open house from 12:05 – 12:55 p.m. (PT) on May 26, June 2, June 9 or June 16. To RSVP and to gain Zoom access, please contact Nicola.Gruen@ucop.edu. You can also download a flyer (JPG).
Wondering if Toastmasters is for you? Read on to learn how it benefitted your colleague Abby Norris.
How Toastmasters benefitted Policy Specialist Abby Norris
Title: Policy Specialist, Systemwide HR
Time worked at UCOP: Six years
Time as a Toastmasters member: Three years
Why did you join Toastmasters? Although I don't have trouble speaking up in meetings, I have always been uncomfortable when I am put on the spot, especially when people are watching me! I realized that public speaking is like anything else – you have to practice to improve.
What's an achievement that you attribute to Toastmasters? I noticed a difference quickly in my comfort level speaking to groups. I joined Toastmasters a few months before I knew I would be presenting at a conference, and it definitely helped me feel calmer and ready to engage with the audience.
How is Toastmasters different from other types of professional development? One great thing about the Lakeside Speakeasy Toastmasters club in particular is how supportive everyone is. It's a space for experimenting with what you would like to work on, whether that is eye contact (a big one for me), your speaking pace, feeling nervous or even learning to be more succinct.
Can you share some advice on public speaking that you've learned through Toastmasters? Practice helps everything. You will definitely improve your public speaking through Toastmasters — the structured speech pathways help you start at the beginning and build on your skills — but performing other roles in a Toastmasters meeting will also help you improve your timing, organization and leadership skills.
Have you recommended Toastmasters to colleagues? Several! I look forward to sharing the benefits of Toastmasters with even more UCOP employees.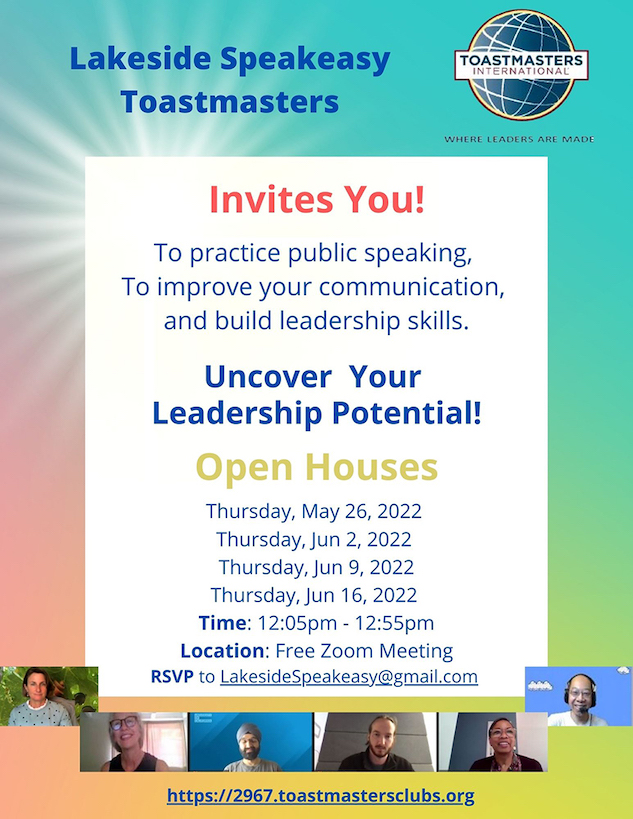 Tags:
Abby Norris
,
professional development
,
Toastmasters
---