The UC Alumni Career Network explores gender at work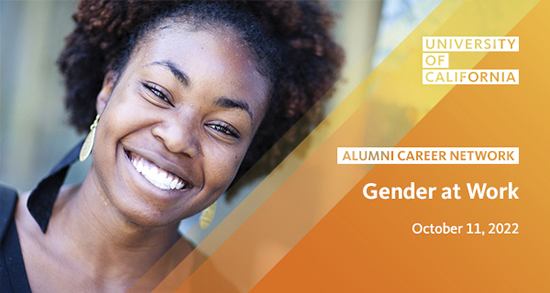 Work can be stressful enough without added challenges and tension around navigating gender identity and expression professionally. And, as a record number of anti-transgender bills are passed by states across the country, it's never been more important for employers and colleagues to create a safe and inclusive workplace for transgender and nonbinary employees.
In this interactive webinar featuring UC alumni, we'll explore tactics and best practices that employers of all sizes can use to expand their efforts around providing an inclusive environment for employees of all genders.
Join us
About the UC Alumni Career Network
The UC Alumni Career Network is a high-impact, online series designed to provide UC alumni and community members with the insights, information, and connections to launch, grow and expand your career opportunities. We tackle a variety of career topics by providing you with insider tips and advice to help you make the most of your UC network. Join us online to gain the latest information and to ask questions relevant to your own professional journey. Join our email list to get information on upcoming career webinars and events.
For questions, contact alumni@ucop.edu.
Tags:
gender expression
,
nonbinary
,
transgender
,
UC Alumni Career Network
---