Navigate a new workplace as a seasoned professional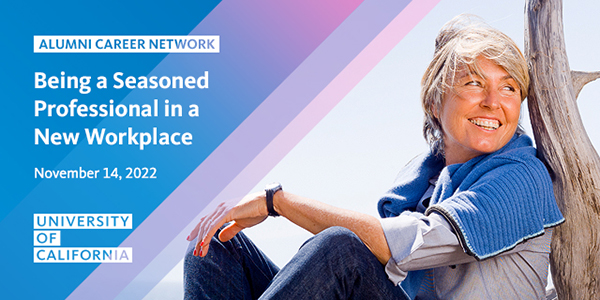 Have you ever wished you had a community of experts to call upon for help navigating the ins and outs of your career, from dealing with difficult situations to managing work-life balance? The UC Alumni Career Network offers just that: Each month, join UC alumni and other members of the UC community for real-world, pertinent advice on some of the trickiest challenges that today's professionals face.
On Nov. 14 at 12 p.m. (PT), the UC Alumni Career Network will present its newest episode, Being a Seasoned Professional in a New Workplace. Coming to a new workplace when you're a senior professional can pose a unique set of challenges. This webinar offers insights and strategies to help experienced professionals find and create community in a new, age-diverse workplace. Our panel of UC alumni will share personal experiences and insights along with tangible tips and advice to help you effectively position your skills and background for your next career move.
All are welcome but we will focus on insights for professionals with more than 10 years' experience.
Tags:
professional development
,
UC Alumni Career Network
---