UCOP employees give back at "The Rock"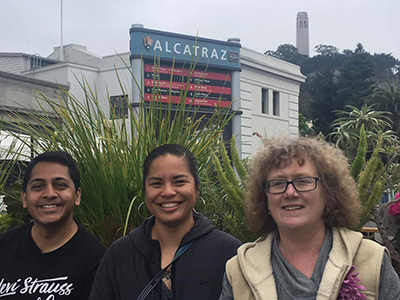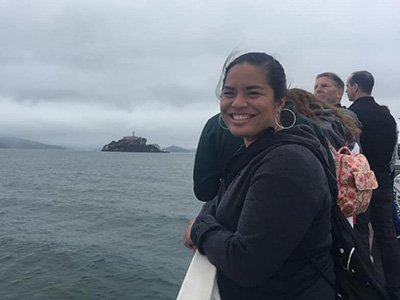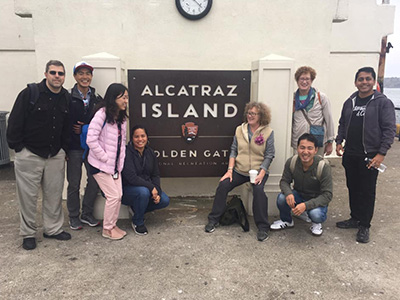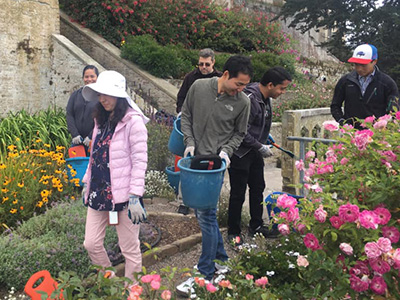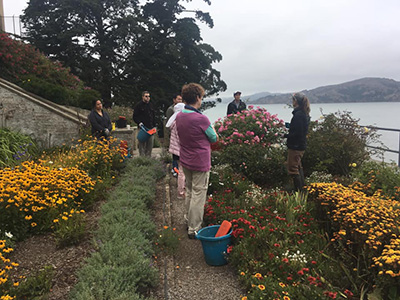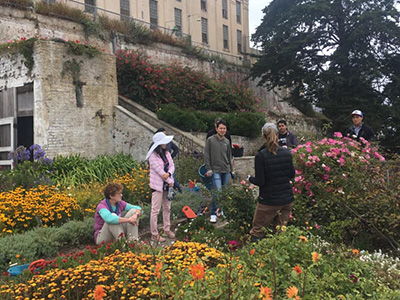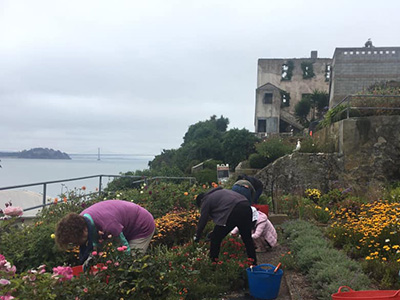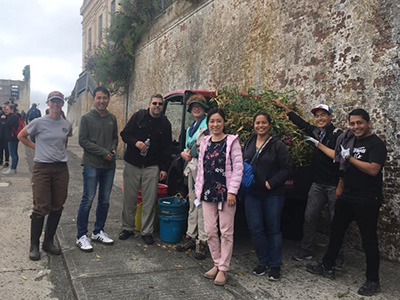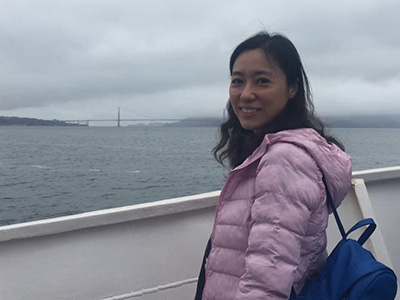 The IRAP team volunteers on Alcatraz on August 19, 2019
On Monday, August 19, the Institutional Research and Academic Planning (IRAP) team — known for their "stat's and stories" — headed across the San Francisco Bay for a day filled with giving back. Their destination: Alcatraz Island, once home to the infamous 20th-century prison and its colorful detainees.
The experience was part of the Academic Affairs year of service. "Provost Brown has encouraged Academic Affairs to give back," says IRAP Vice President Pamela Brown. "IRAP embraced this call first by hosting an open house for UCOP colleagues, and then by helping to restore one of our Bay Area landmarks — Alcatraz and its beautiful gardens."
"We wanted to show that Alcatraz is more than a prison where people were reduced to mean numbers on a rock," explains Executive Assistant Bernadette Scully. "There is color; there are flowers; there is life!"
A model of sustainability
The Garden Conservancy, which maintains the island's many gardens, orchestrated the group's volunteer experience. In an introductory lecture, the volunteers were surprised to learn that the prison guards and their families who lived on Alcatraz while the prison was functioning planted much of the island foliage that exists today. Due to these residents' shrewd selection of sustainable plants from around the world, the gardens endured even when the island was largely abandoned.
According to the Garden Conservancy, "these historic gardens not only illustrate the importance of gardens to the human spirit, but also the ecological benefits and aesthetic possibilities of sustainable gardening."
A metaphor for UC
Scully explains that Alcatraz's name derives from the Spanish word for pelican. As a totem, the pelican symbolizes social responsibility and collaborative attributes — teamwork, charity, generosity and friendliness. These birds are highly social and reliant upon their flocks.
The IRAP team felt a strong connection between pelicans' attributes and those of their team: UC's institutional researchers bind numbers, people and places in the common good.
"We focused on this theme in the 2019 Accountability Report, where we connected stories about UC individuals' personal contributions to the broad impact UC has on our state," says Scully.
A meaningful experience
The beauty of Alcatraz captivated the IRAP team members who participated in the volunteer project.
"What a wonderful place to volunteer!" says Analyst Rebecca Landes. "It was a great opportunity to contribute to a San Francisco treasure."
Analyst Woody Kongsamut agrees. "Volunteering on Alcatraz was an incredible experience, and I am so grateful for the opportunity to roll up our sleeves together and give back to this piece of American history."
"After working on a beautiful garden next to the former federal penitentiary on 'The Rock,' I developed a new-found appreciation for its history, as well as a sense of gratitude for my freedom," says Analyst Amit Prayag.
Scully was also moved by the global appeal of Alcatraz. "As we volunteered, the island was filled with tourists who had come from every part of the world to visit this site. We heard every language." And, she adds, "the small — but mighty — IRAP team was no less. We had members from India, China, Japan, Ireland, Oakland and all across America."
To learn more about IRAP and its work, view the 2019 Accountability Report.
Tags:
community
,
giving back
,
IRAP
,
volunteering
---