UC Global Health Day: Learn to support health equity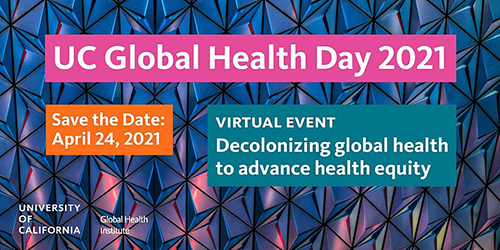 UC Global Health Day 2021: Decolonizing Global Health to Advance Health Equity will take place on Saturday, April 24, from 10 a.m. – 12:30 p.m. (PT).
Join President Drake for his welcoming remarks, then stay to hear from leading experts on health, climate and racial justice, community activism and more.
This free conference, organized by the UC Global Health Institute (UCGHI), is an opportunity to engage with the UC and global communities on what it means and what it looks like to start the process of decolonizing global health. Sessions will critically review past and current practices in order to understand the implications of colonization and racism as we shape the future of global health.
Learn how to recognize and dismantle systems of oppression in your own global health practice, in the hope of creating a more equitable, just and effective field.
Tags:
health equity
,
UC Global Health Day
---