Save the date for UC Global Health Day: May 7, 2022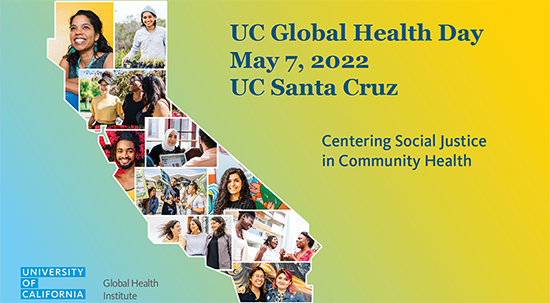 All UC students, faculty, staff and alumni — as well as members of the general public — are invited to attend UC Global Health Day 2022. The theme of this year's event is Centering Social Justice in Community Health. It will take place at UC Santa Cruz on Saturday, May 7, from 8:30 a.m. – 6 p.m. (PT).
Virtual attendance is free for all; UC faculty, staff and alumni can attend in person at a discounted rate of $25 per person. Register online here.
Featured speakers
The conference will feature a number of prominent scholars and researchers, including:
Adriann Begay, M.D., Navajo Nation Senior Advisor, HEAL Initiative
Ricky Bluthenthal, Ph.D., Professor and Vice Chair for Diversity, Equity and Inclusion, Department of Population and Public Health Sciences and Associate Dean for Social Justice, Keck School of Medicine, University of Southern California
Cristina Rivera Carpenter, Ph.D., M.S.N., Navajo Nation Program Officer, HEAL Initiative
UC President Michael V. Drake, M.D. (Recorded message)
UC Santa Cruz Chancellor Cynthia K. Larive, Ph.D.
Rupa Marya, M.D., Associate Professor of Medicine, UCSF and Founder, Executive Instigator, Deep Medicine Circle
Vandana Shiva, Ph.D., Leader, International Forum on Globalization, Founder Navdanya
View the full itinerary and register at the event site.
Tags:
UC Global Health Day
---