Green your return to the office
As UCOP ramps up its return to on-site operations, the Sustainability Employee Resource Group (SERG) would like everyone to keep a few key green practices in mind. Even though Earth Month has recently passed, we can all support efforts towards creating greener UCOP operations by properly sorting waste, being efficient with energy usage and choosing alternative transportation.
While some of the details below focus on UCOP's Oakland campus, they apply to all locations. We encourage you to think of ways to green up your office — whether you're in a home office, the Franklin-Broadway campus, Riverside, Sacramento or Washington, D.C.
Make proper waste sorting a daily habit
As part of the Franklin-Broadway waste reduction program, all kitchens, conference rooms, copy rooms, restrooms, offices and workstations have some combination of bins for recycling, composting and trash. The current bins (shown below) will soon have the updated signage shown in the following sections.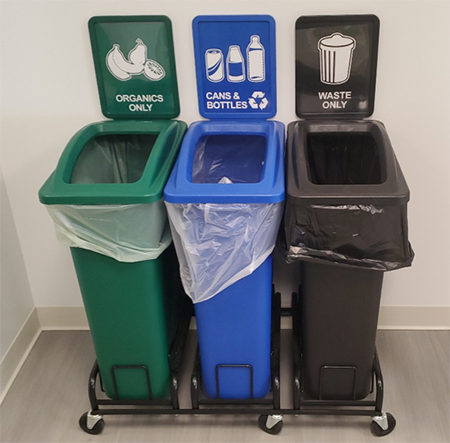 Landfill (waste only)
Landfill bins should only be used for non-recyclable and non-compostable waste, such as food wrappers, plastic films, foil- or plastic-lined paper drink or soup boxes and plastic items with metal, fabric or rubber parts.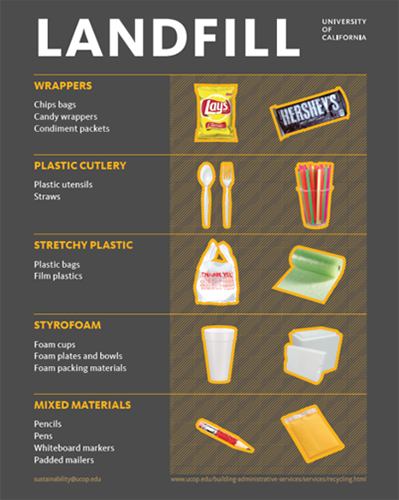 Recyclables
Blue bins are designated for recycling, including unsoiled paper items, bottles, cans and recyclable plastic. Containers and plastic should be rinsed, if possible, before disposing of them. Food-soiled paper items should not be placed in the recycling bin.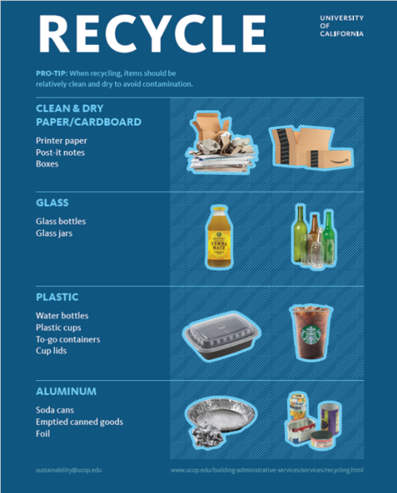 Compost (organics only)
Composting returns nutrients back to the soil and keeps these products out of landfills. All food scraps, food-soiled paper products and compostable cutlery can be placed in these green bins. No plastic, styrofoam, glass, metals or liquids are allowed.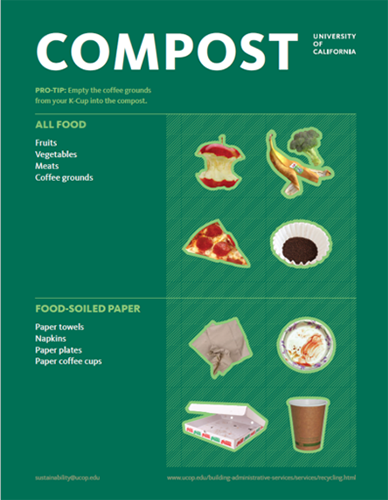 Be efficient with your personal and office energy usage
Did you know that building operations are responsible for an estimated 28% of annual global carbon emissions? To address this together, we can:
Turn off (or better yet, unplug) computers, lights and equipment when not in use
Find ways to lower dependence on central heating and AC
Use LED bulbs whenever possible.
Utilize public- and low-emission alternative transport
Another 27% of global carbon emissions come from transportation alone! Driving to work can be convenient, but if you're able to take alternative transportation, you can save money and help protect the planet. Our offices have plenty of resources to help with this, including ample bike parking, convenient transit stops and a commuter benefits program that lets you set aside pre-tax salary funds for public transit and parking. Think before you drive — or carpool with a colleague.
Check out SERG and other sustainability resources
We hope you find the tips empowering for your own greener return to the office. You can find a convenient handout of all more tips linked here. To learn more, or to join SERG, email sustainability-erg@ucop.edu.
Tags:
SERG
,
sustainability
,
UCOP Sustainability Employee Resource Group
---