GUEA explores what to expect with the 2022 elections
As we approach midterm elections, which way are America's political winds blowing? And what will November 8 portend for the future?
On Monday, Nov. 8, at 4 p.m. (PT), UCOP's Office of Graduate and Undergraduate Equity Affairs (GUEA) will present a panel featuring faculty experts from across the UC system and members of the student body to discuss how political, economic and legal dynamics have set the stage for this year's national election. We will explore past midterms to lend context to this year's and will weigh in on what could happen when the votes are counted. Do Americans trust in the integrity of the election system? Might we again see allegations of fraud? Using data from U.S. and global elections since 2020, the panel will provide evidence and perspective to help us understand the political landscape of America and beyond.
This event is presented in partnership with GUEA, the Future of Democracy Initiative (part of the UC Institute on Global Conflict and Cooperation), the School of Global Policy and Strategy and UC San Diego's Yankelovich Center for Social Science Research for this in-depth conversation on the eve of the upcoming election.
Featured speakers
Professor Pamela Ban, UC San Diego
Professor Ceci Cruz, the Future of Democracy Initiative and UCLA
Professor Thad Kousser, the Yankelovich Center and UC San Diego
Chloe Vitali, UC San Diego
For questions, contact fatima.azam@ucop.edu.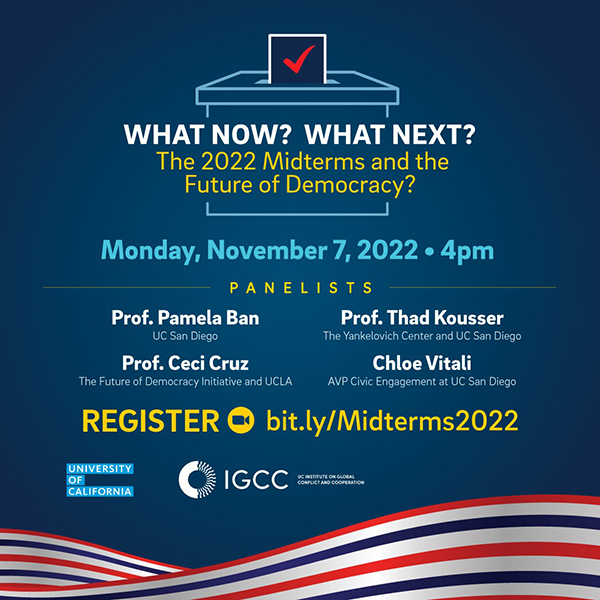 Tags:
2022 Election
,
election
,
GOTV
,
GUEA
,
voting
---