Ribbon-cutting ceremony opens Franklin-Broadway Campus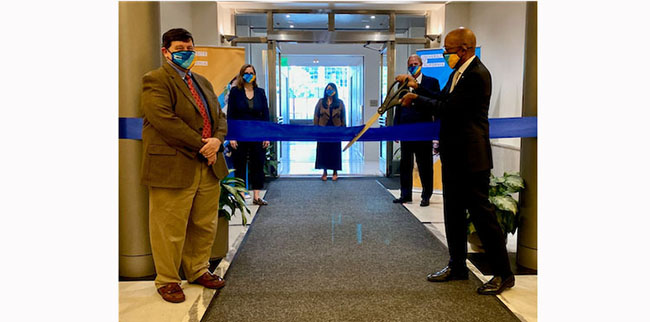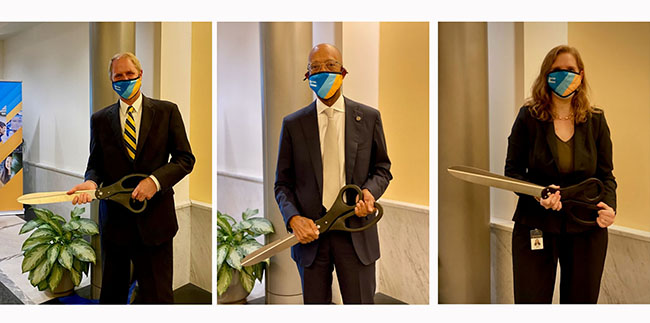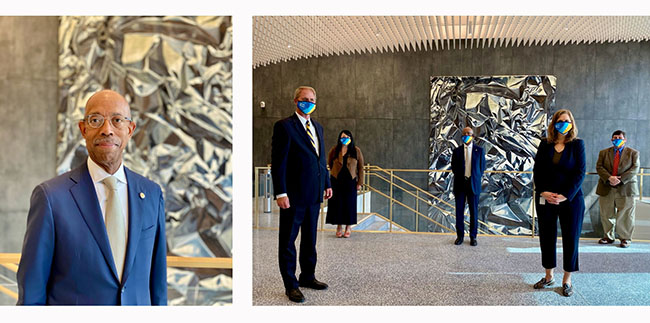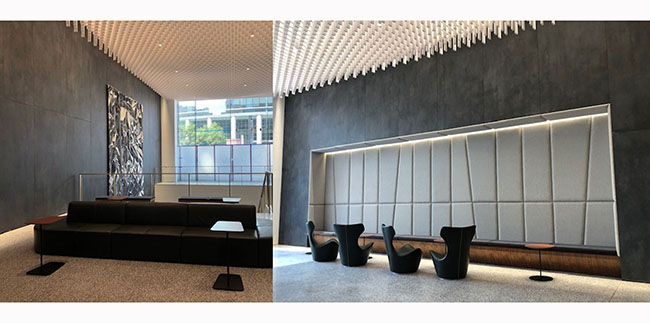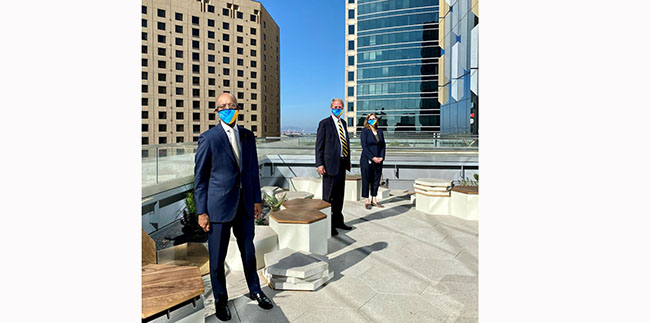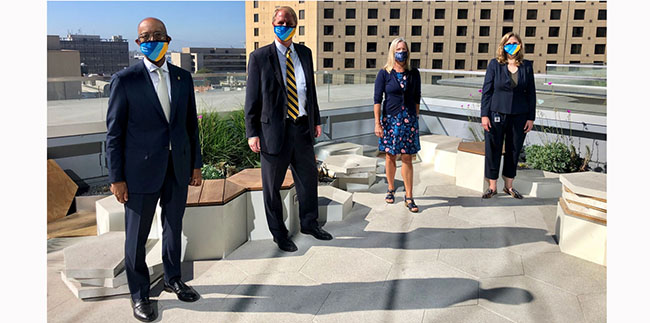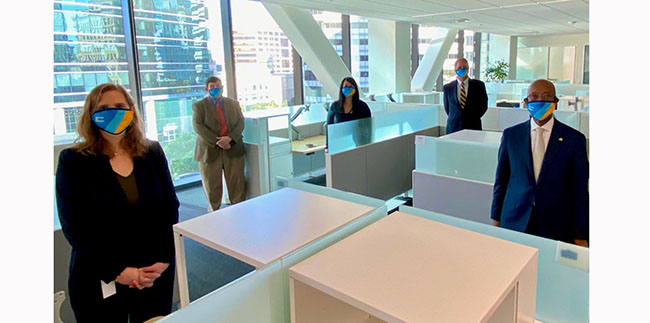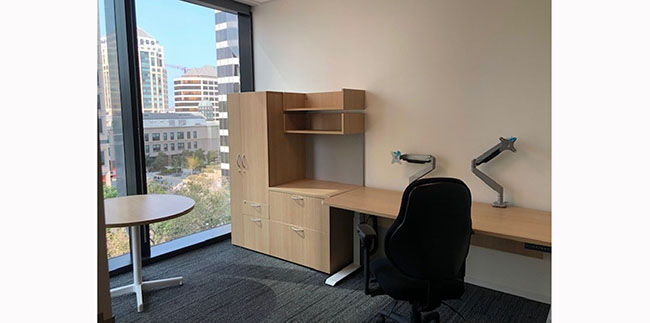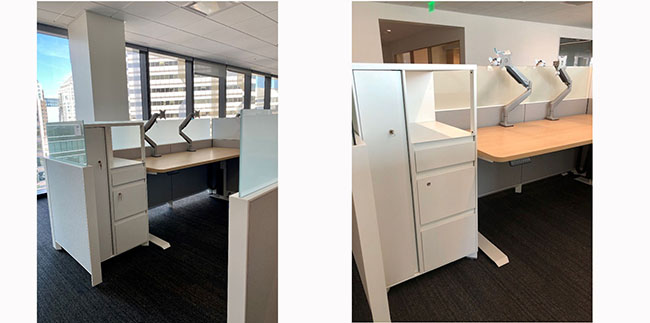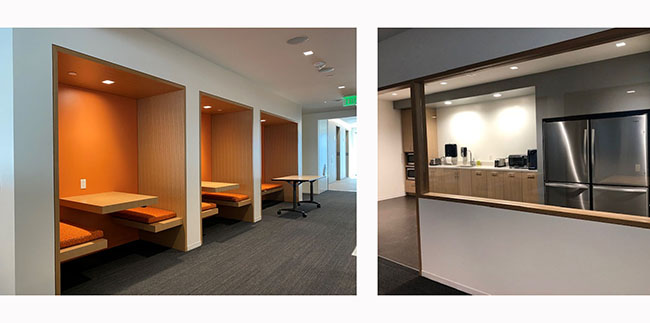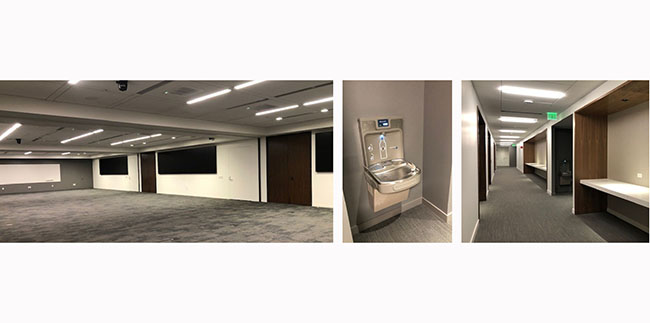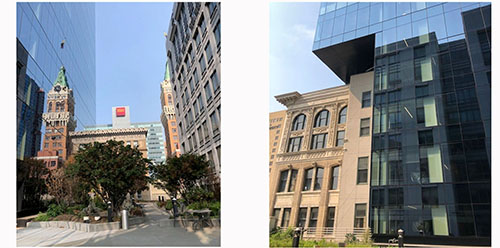 On October 22, UC President Michael V. Drake, M.D. joined UCOP leaders in a ribbon-cutting for the new Franklin-Broadway Campus, a significant milestone for the office consolidation project, which broke ground in 2018 to bring together nearly 1,800 people previously located in four buildings throughout downtown Oakland.
The small ceremony included Rachael Nava, executive vice president and chief operating officer, Nathan Brostrom, executive vice president and chief financial officer, Jenny Kao, chief of staff to the president, Steve Murray, director, Building and Administrative Service Center (BASC), and Thera Kalmijn — behind the camera — executive director, UCOP Operations.
"Bringing our Oakland staff together in one location and into a physical work environment that invites more interaction and collaboration will create a stronger sense of community and better support the work we do on behalf of the system," said President Drake.
With the new Broadway building complete, the focus now is on the renovation of the Franklin building. The combined new campus will be environmentally friendly and have an open office environment that includes ergonomic workspaces, drop-in huddle and focus rooms, a larger variety of conference rooms, our own conference center, a new digital signage system, outdoor spaces and more.  We look forward to returning to this new office environment when the state of the COVID-19 pandemic allows.
"Reaching this milestone, despite extraordinary circumstances this year, is a direct result of Steve's leadership and hard work, along with that of the entire BASC team," said COO Rachael Nava. "It's a tremendous accomplishment that included many UCOP partners over the course of many years."
While the majority of UCOP staff continue to work from home, a small group of colleagues from the Retirement Administration Service Center, IT Client Services, BASC and Records Management have relocated to 1100 Broadway, while some members of the Work Management Center and Mail Services are located in newly renovated spaces in the Franklin lobby. All are there to keep vital services up and running in accordance with Alameda County public health orders.
Want to know more about the Franklin-Broadway Campus?
Read the Office Consolidation FAQs and view photos, staff drop-in session recordings and other information in the UCOP Office Consolidation – Public Box folder.
For questions, email consolidation@ucop.edu.
---