Explore a public health perspective on prison health conditions
Amend is a UCSF-based program that seeks to change the culture of California prisons through public health, medical ethics, occupational health, international human rights and correctional best practices. Amend team members work in prisons to reduce their debilitating health effects on residents and staff, while also joining policymakers and community leaders to advance decarceration strategies and a better, new system of accountability and healing in the US. Amend focuses on health-focused culture-change initiatives, staff training, public education, advocacy and policy-oriented research.
On Wednesday, March 1, from 12 – 1 p.m. (PT), the UC Center Sacramento (UCCS) will present a talk by Brie Williams, M.D., director of Amend at UCSF. Dr. Williams will introduce public health principles that have enabled the Norwegian Correctional Service to run the "world's most humane prisons." She will then describe Amend's early efforts to bring this approach to California prisons. You can register online here.
About Brie Williams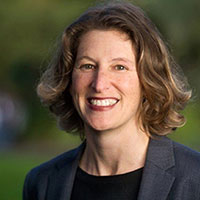 Brie Williams, M.D., M.S., is a professor of Medicine at the Center for Vulnerable Populations at UCSF and the director of Amend at UCSF. Dr. Williams conducts policy-oriented research to improve prison residents' and correctional staff's health and well-being. Dr. Williams research — which draws on her extensive training in internal medicine, geriatrics and palliative care — has led to new methods for evaluating the health needs of incarcerated older adults; helped shape correctional health care policies; brought international attention to the adverse physical health impact of solitary confinement on older adults and introduced evidence-based approaches to minimize its use; and has helped to redesign "compassionate release" policies for the seriously ill. She develops and maintains international partnerships to bring public health, human rights and decarceration-oriented policies and practices to U.S. prisons.
About the UCCS
The UCCS advances the University of California mission of teaching, research and public service with an integrated program to train future state leaders, address challenging public-policy issues confronted by the nation and state, and carry out the university's mandate to assist state government. In collaboration with partners in academia, government and philanthropy, UCCS serves as a systemwide resource, focused on issues of importance to the state and nation and based on collaborating networks of scholars drawn from the entire UC system. Learn more about the UCCS.
Tags:
Brie Williams
,
prisons
,
UC Center Sacramento
,
UCCS
---