Wednesday: UC experts on how to manage email overload
This Wednesday, Nov. 1, from 10 – 11 a.m. (PT), the University of California will observe Electronic Records Day with a webinar: Mark as Read, Managing Email Overload.
Join systemwide experts in archives, records management, privacy and information security, for a series of short presentations, followed by a question and answer session.
Featured speakers
Paula Johnson, Director of Policy and Records Administration, UC San Diego
Paula serves UC and the UC San Diego campus by managing and supporting her team in efforts surrounding policy, information governance and legally defensible records retention. Her career has focused on the information governance of public records; strategic direction and design of electronic records systems; executive leadership operations and finance; and systemwide policy governance. Paula holds a law degree from the California School of Law and an undergraduate degree in communication from UC San Diego. She is a certified information governance professional, credentialed by the Institute of Certified Records Managers.
Sajjad Matin, Systemwide Cybersecurity Counsel, UCOP
Sajjad is the principal counsel for cybersecurity and data protection. In this role, he helps systemwide stakeholders navigate major cybersecurity incidents and provides counsel on an array of technology matters. Before joining UCOP, Sajjad served as a federal prosecutor in Miami, where he focused on investigating and prosecuting cybercrimes, including intrusions and ransomware attacks. Sajjad's experience includes civil enforcement as an attorney with the Securities and Exchange Commission, where he investigated bribery, insider trading and fraud against investors. Prior to public service, Sajjad worked in the Silicon Valley as an intellectual property attorney.
April Sather, Chief Information Security Officer, UCOP
April serves as UCOP's chief information security officer (CISO) and interim UC systemwide cyber defense officer. Prior to joining UCOP, April served as assistant CISO at UC Irvine, as well as CISO and director of Innovation, Architecture and Security Services at Pacific Blue Cross in Vancouver, British Columbia. Earlier roles include positions at First West Credit Union, Deloitte, Sun Microsystems and Computer Sciences Corporation. April earned her Master of Business Administration from UC Irvine and a bachelor's in information technology and commerce from Bond University, Queensland, Australia. April is a member of ISACA, Project Management Institute and UC Women in Technology; she was a founding member of Women in Technology UCI.
Matt Stahl, University Archivist, UC Santa Barbara
Matt has been the UC Santa Barbara university archivist since 2017. Previously, from 2013 to 2017, he served as the committee archivist for the U.S. Senate Committee on Commerce, Science and Transportation. Matt also has a background in secondary education, having served as a middle and high school teacher in the South Pasadena Unified School District from 2004 through 2010. Matt holds master's degrees in both history and library science from the University of Maryland.
Kent Wada, Chief Privacy Officer and Director, Policy and Privacy, UCLA
Designated as the campus's first chief privacy officer, Kent addresses foundational privacy and data issues that have broad impact on the campus community, the academy and the university mission. He helps ensure that UCLA is a good steward of data by collaborating closely with campus stakeholders, including those with compliance authority for protection of personal and health information. In his role as director, policy and privacy in the Office of Advanced Research Computing, Kent works broadly with the campus and its data and IT governance functions to help shape the institutional agenda for technology policy issues of strategic concern.
Kelley Walker, Information Governance Consultant, UC San Diego
Kelley recently transferred to UC San Diego from UC Davis, after serving nearly seven years as an information practices coordinator and records manager. Prior to joining UC, Kelly held several roles at the state of California, including stints in legal office administration and litigation support/case management. Kelley has served as custodian of records for departmental confidential, legal and personnel records; she has also created, managed and trained end-users in various database platforms. Kelley has several years of experience in records management and information governance, including the managing and disposition of departmental records and email.
Join us
For questions, contact Jackie DiOrio.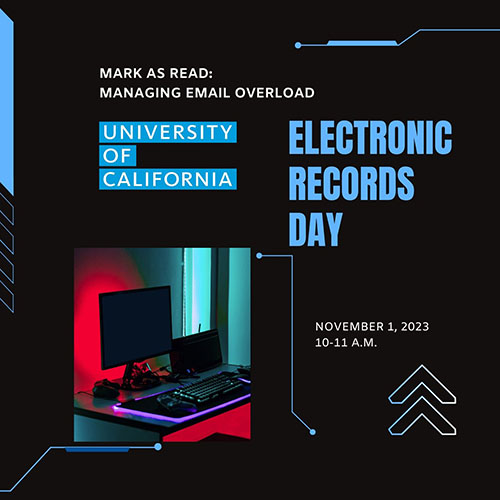 Tags:
Electronic Records Day
,
email
,
privacy
,
records management
,
security
---