Rachael Nava's message to the UCOP community regarding our jobs protection and curtailment plan
EVP/COO Rachael Nava sent the following message to UCOP staff on Nov. 23
Dear UCOP colleagues:
As a follow up to President Drake's message to the UC community earlier today, I am writing to share with you the approach we will take at UCOP for the remainder of this fiscal year to preserve jobs and avoid layoffs to every extent possible, while helping UC deal with its more than $2 billion in pandemic-related financial impacts. In keeping with systemwide principles, the UCOP plan follows an ethos of shared sacrifice, with higher-paid employees shouldering more of the burden.
The following is a summary of the UCOP plan, which is consistent with systemwide guidelines and informed by the feedback we received from UCOP employees and groups during the consultation process:
UCOP will observe a total of five (5) curtailment days during the upcoming annual winter closure. Since UCOP already observes three curtailment days during the winter break, we will add two curtailment days: Dec. 23, 2020, and Jan. 4, 2021. Accordingly, this year's UCOP closure/curtailment schedule will look like this: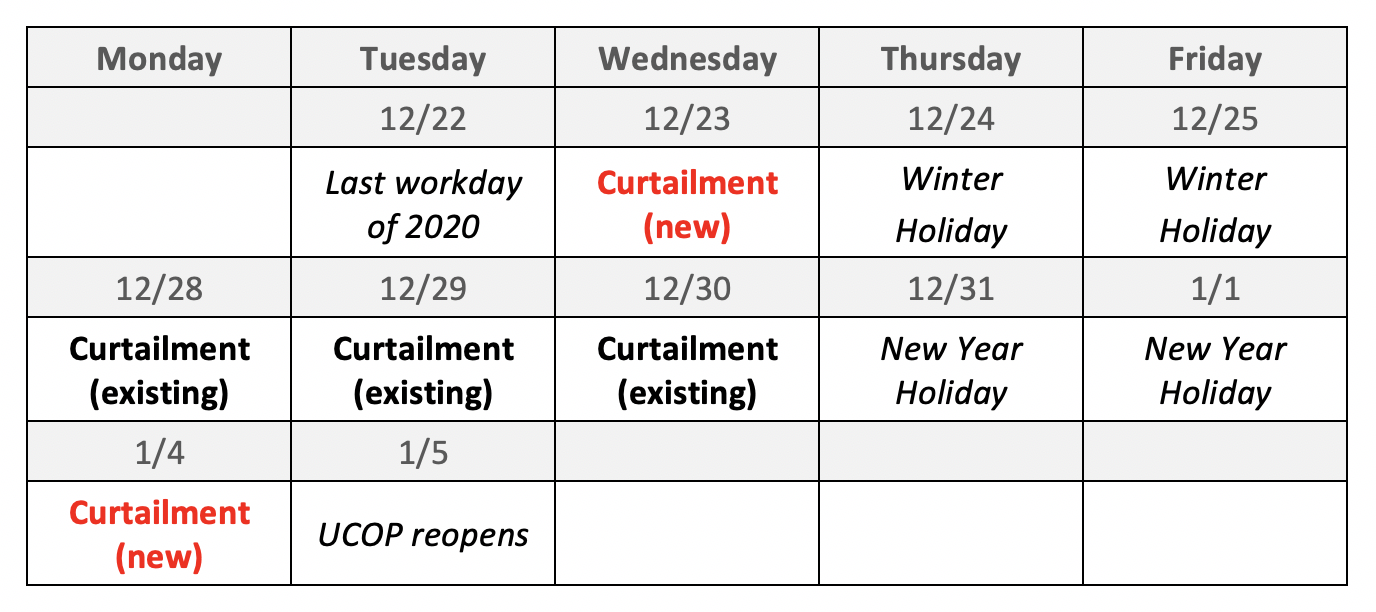 All UCOP employees — administrative, academic and union-represented colleagues — will participate in the program. The application of the UCOP program to union-represented staff will be subject to relevant collective bargaining requirements.
Whether or not employees may use paid vacation leave for their five (5) days off will depend on their salary: Lower-paid staff will be allowed to use more paid leave, while higher-paid staff will be allowed to use less paid leave. The highest-paid employees will be required to take all five days as unpaid leave. The chart below shows the number of unpaid days and paid vacation leave days UCOP staff will be required/allowed to take:

Employees in the lowest earnings will not experience any impact to their individual pay. Highest-paid employees will have the maximum reduction in pay. Pay deductions for unpaid leave will be spread over several pay periods so as to avoid significant financial impact in a single pay period.
In the spirit of equity and fairness, managers of academic appointees and staff performing essential work are asked to extend as much flexibility as possible to these employees during the curtailment days.
Like all UC locations, salary savings generated by the UCOP program will be used to help minimize the need for layoffs.
If you have questions, you may email them to UCOPCurtailment@ucop.edu. We will address common questions in additional updates about the UCOP plan and/or through the Link newsletter. We will also be providing managers and supervisors with additional details about the plan and its implementation in the coming days.
I recognize that news about any salary deductions is unwelcome, particularly at this time of year. In designing the UCOP plan, we followed the principles of fair shared sacrifice, with everyone participating and higher-paid employees shouldering more of the burden; and minimizing impacts to the extent possible.
As always, thank you for your good work and dedication during these difficult times. Please stay safe.
Sincerely,
Rachael Nava
Executive Vice President and Chief Operating Officer
Tags:
COVID-19
,
curtailment
,
Rachael Nava
---