STEP appraisals: Updates for the end of 2020-21 and start of 2021-22 performance years
Starting April 1, we will complete our year-end 2020-21 Staff Talent Evaluation Process (STEP) action items and begin the process for the next performance year. During this time, the performance cycles overlap. Key action items include:
Finalize Criteria, including optional multi-rater feedback
Manager Evaluation
Define Criteria for FY2021-22 performance cycle
The timeline for each action item is shown in this graphic and described further throughout this article.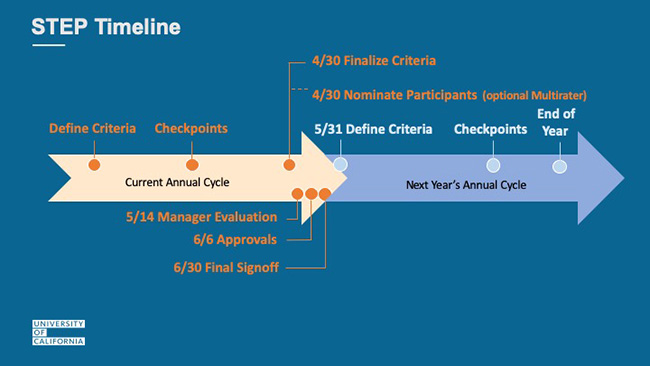 Finalize Criteria: Due April 30
In Finalize Criteria, you enter your last performance comments for the year, then your manager enters comments and meets with you for a year-end conversation. It is similar to the prior checkpoint, with two new components:
You must enter the completion dates for any required training.
You may nominate colleagues for the optional multi-rater feedback process.
– Managers may add additional feedback participants.
– Participants will respond to two feedback questions.
– Managers must submit the invitations for nominated participants to provide feedback.
– Only managers can view feedback and integrate it into their manager evaluation.
Action items for Finalize Criteria:
Complete your required training well in advance of the April 30 due date (see training information below) to allow time to enter goal and competency updates and prepare for discussions.
Update progress on your goals and competencies in ePerformance.
Answer the four feedback questions in ePerformance.
Enter completion dates for required training.
When you're ready, click the Share with Manager button in the top right-hand corner in ePerformance.
Prepare for your checkpoint conversation.
Read this Link article for more detailed information on these action items.
Manager Evaluation: Due May 14
Only managers complete the Manager Evaluation, in which they integrate any multi-rater feedback and provide an overall rating for the performance year. Final communication of ratings and acknowledgments will wrap up on June 30.
Define Criteria: Due May 31
As you finish the process for the current performance year, you need to begin the Define Criteria phase for the new FY2021-22 performance year, which begins April 1, 2021.
Starting April 1, you will have two sets of documents in the Performance Workcenter in UCPath online. By May 31, you should select competencies and capture new and continuing goals in the FY2021-22 form to discuss with your manager. Refer to the STEP Guidebook (see pages 4-8) for a refresher on the Define Criteria phase of the STEP process.
Remember, STEP is an iterative process in which goals may extend beyond a single performance year, and new goals and competencies can be added. New goals can also be added during any checkpoint in the performance year.
Required and optional training and resources
Required self-paced online courses available in the Learning Center beginning April 1:
– UCOP STEP Training 5a: End of Year for All Employees (@ 10 min)
– UCOP STEP Training 5b: End of Year for Managers Only (@15 min)
– UCOP STEP Training 5c: Demo for End of Year Process for All Employees (@10 min)
– UCOP STEP Training 5d: Demo for End of Year Process for Managers Only (@ 10 min)
Optional instructor-led training from April 6 – May 11 to expand on the materials presented in the required online courses; multiple dates are available for employees and managers
STEP Drop-in Office Hours will be held every Friday from 9-10:30 a.m. (PT) to answer your questions. No registration is required; join via this Zoom link.
Coaching Lab for Managers starting April 16
Additional information is available on the STEP website. For questions regarding your goals and appraisal process, please contact your manager or UCOP Human Resources business partner.
Key dates
Date
Activity
Description
April 1
Required on-demand training available
Employees and managers complete two self-paced, online end-of-year courses no later than April 30.

Various
Optional training and support
The following optional training and resources are available for employees and managers. Required training must be completed prior to attending.
– Optional live training (April 6 – May 11);  multiple dates for employees and managers
– Coaching Lab for managers (April 16 – Indefinite)
– Office Hours: Every Friday – 9-10:30 a.m. PT
April 30
Finalize Criteria due
Employee and manager complete final checkpoint conversation

May 14
Manager Evaluation due
Manager assigns rating and submits for next level approval

May 31
2021-22 Define Criteria due
– Set goals, including new goals and rollover of goals continuing from FY2020-21
– Select competencies to focus on for the year
– Employee and Manager Discussion
June 30
Final signoff
– Manager meets with employee to review final rating
– Employee adds comments (optional) and acknowledges
Tags:
performance appraisals
,
STEP
---